Boosting Sexual Desire with the Boost 141 ™ Treatment Program
Boost 141™, also known as Bremelanotide PT 141, is a synthetic peptide hormone used to treat sexual dysfunction in both men and women. In more specific terms, it's a nonselective agonist that binds to and activates a cellular receptor in the hypothalamus. As it is known that sexual excitement involves neurotransmitters, such as dopamine and serotonin, to help process sexual stimulation, this hormone treatment may be just the thing to help one experience a fulfilling sex life.
The hypothalamus is a region of the forebrain that controls a multitude of bodily functions including: body temperature, thirst, appetite and weight control, emotions, sleep cycles, blood pressure and heart rate, production of digestive juices, balancing of bodily fluids, and most relevant to our discussion – sex drive.
"It works so well that I felt like I was back in my early 20's."
How was Boost 141™ Discovered?
Boost 141™ the first ever FDA-approved aphrodisiac, was previously found to be a tanning agent after experimenting with its "parent" melanocortin receptor, Melanotan II. After test subjects experienced increased arousal and erections, the aphrodisiac was sold as a treatment for female sexual dysfunction (specifically, to treat Hypoactive Sexual Desire Disorder), by the name brand Vyleesi. Today, it is used by both men and women to treat sexual dysfunction and low libido.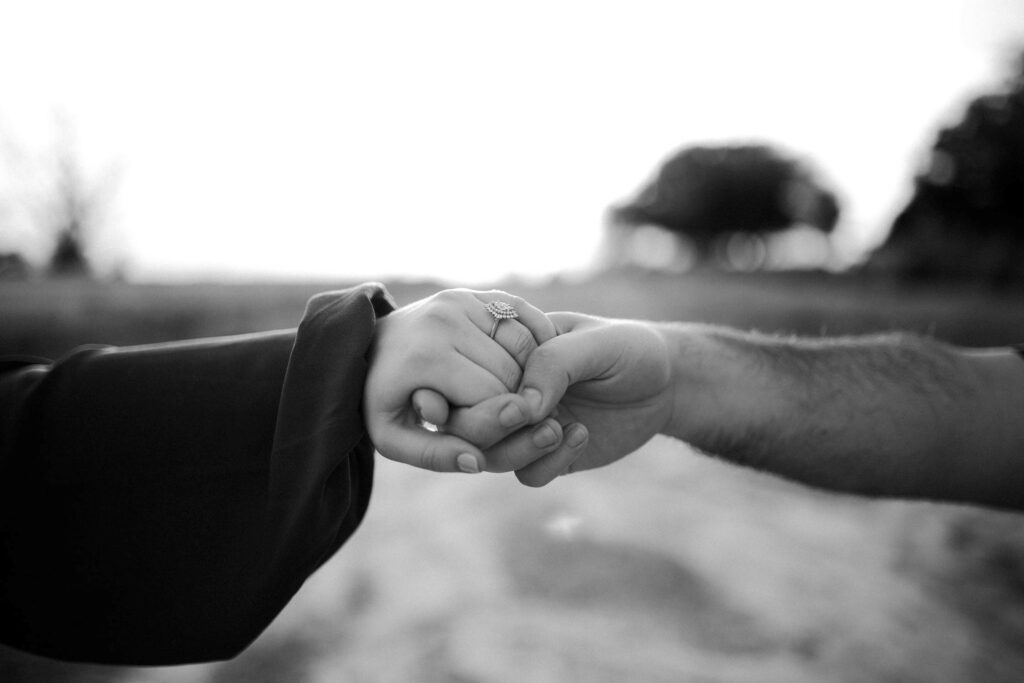 How is this different?
There are plenty of ED pills and medication that target blood flow to induce erections. Needles, pills, and suctions all can create erections through increasing blood flow to the penis. But let's think back to when you were young and vibrant. It's the stimulation from your environment that first got you excited; your body created a chain-reaction from thoughts in the brain to an erection. Boost 141™ can help men achieve that same kind of excitement through the receptors in your brain.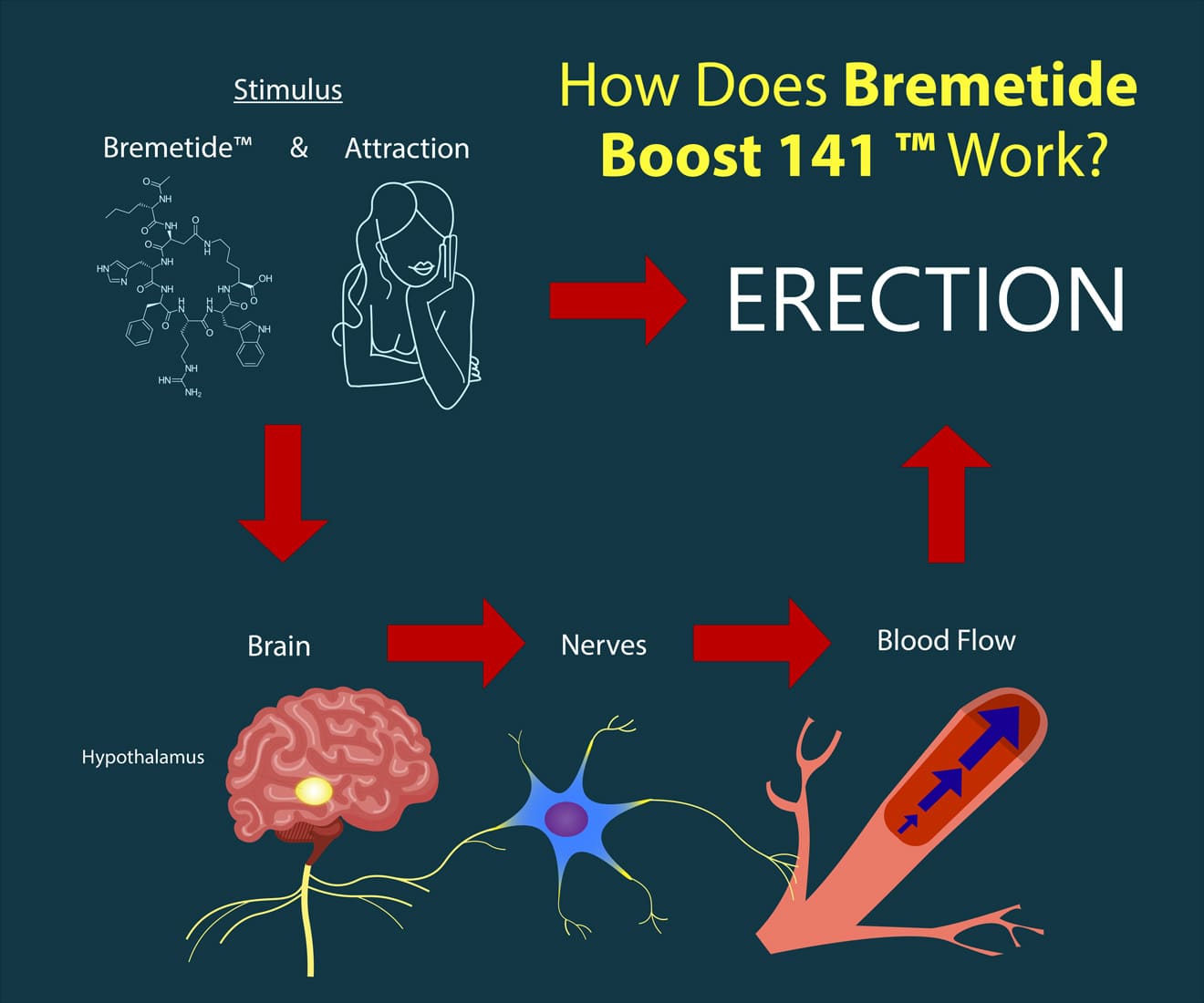 Furthermore, the common oral medications used to treat male sexual dysfunction, PDE5 inhibitors (phosphodiesterase type 5), oftentimes, result in side effects such as headaches, flushing, and priapism (an erection lasting more than 4 hours). These include Viagra (sildenafil), Cialis (tadalafil), Levitra & Staxyn (vardenafil), and Stendra (avanafil). On the other hand, Boost 141™ elicits a natural response, and affects one's sexual arousal. Rather than directly acting on the blood vessels in the penis, Boost 141™ reacts in the hypothalamus in the brain, which sends signals to the nerves. Your nerves regulate the constriction and flow of blood to the penis to create your erection. Thus, Boost 141™ is a safe and efficacious alternative for treating male sexual dysfunction, while also helping women increase their level of sexual desire.
"Great treatment as a standalone, it works amazingly well in conjunction with some of the other treatments."
Unlike other assumed aphrodisiacs such as ginseng and yohimbine, which depend on placebo effects, Boost 141™ activates "hypothalamic and limbic emotional structures, the parts that naturally flares when you're turned on" (Men's Journal). Some plants, spices, and foods classify as aphrodisiac substances mainly due to their historical contexts. In many cultures, aphrodisiacs were important substances in reassuring reproduction, and their popularity grew as generations after generations passed down knowledge of miracle performance enhancers. Who's to say if these actually work?
Where can I get Boost 141™ and what can I expect from it?
Boost 141™ is available as an easy-to-administer subcutaneous injection. If you are already on a treatment plan with Clinic for Him, ask us how you can start on Boost 141™ in conjunction with ICP or ™. While ICP and ™ help to boost blood flow, Boost 141™ will simultaneously increase your sexual appetite. As a secondary effect, Boost 141™ can help to increase blood flow too. Here's what you can expect:
increase in sex drive and sexual desire
increased sexual frequency
treatment of erectile dysfunction and impotence
higher natural energy levels
relief from lethargy or tiredness
Boost 141™ is a BRAND NEW treatment and has been personally pre-evaluated by Regional Manager Mike Moss with CFH. Read his story below:
"My name is Michael Moss, and yes, I do work for Clinic for Him, but don't let yourself believe for one minute that my opinion is any less valid than someone who does not.
I started with CFH when I was 35 years old, and like most men that age, everything was working just fine – if you know what I mean. But with the passage of time, things do begin to start slowing down. As a matter of fact, over 52% of all men will have to deal with it.
I had the opportunity to try this new treatment called Boost 141.™ I was given all kinds of information about this treatment; and to be honest, I had to read it a few times before I understood it. To me, all the talking in the world does not really matter. All I am concerned with is, DOES IT WORK FOR ME? Well let me tell you this – it really does work. It works so well that I felt like I was back in my early 20's. Let us just say that when I finally got to sleep, I really slept. And my wife, well, she made me my favorite breakfast in the morning. After more than 35 years of marriage, you know that that does not happen every weekend.
So, if you get the chance, check out Boost 141.™ Not only is it a great treatment as a standalone, but it also works amazingly well in conjunction with some of the other treatments. You too can feel that youthfulness again. Let's face it, it's all about having fun again."
– Michael Moss
Sources Cited:
This Content is not intended to be a substitute for professional 
medical
 advice, diagnosis, or treatment. Always seek the advice of your physician or other qualified 
health
 provider with any questions you may have regarding a 
medical
 condition.