Symptoms Of Erectile Dysfunction
WHAT ARE THE SIGNS OF
ERECTILE DYSFUNCTION?
While symptoms might vary, here is a list of frequent ones:

Difficulty obtaining or keeping an erection occurring at least once per four attempts at sexual activity.

Getting an erection takes longer than usual, and it becomes more difficult in certain situations.

The sexual erection is weakening or becoming less stiff.

Maintaining an erection is becoming a conscious effort, or becoming increasingly difficult.

Erections in the morning become less frequent or less rigid.

Climaxing or ejaculating faster or with an unfinished erection.
How Does an Erection Form?
Erections are an essential part of a man's sex life. Understanding first how an erection is achieved is important to finding solutions for when there's any sexual dysfunction.
When a man becomes aroused during sexual activity, the brain sends signals to the nerves in the penis, causing the blood vessels in the penis to relax and open up. The body increases blood pressure, which allows blood to fill the spongy tissue inside the penis, causing it to expand and become erect. The erectile tissue also traps the blood inside the penis, keeping the erection firm. As the man and his partner continue to be aroused, the man's penis will remain erect until the arousal subsides or until ejaculation occurs, leading to reduce blood flow in the erection chambers.
How Frequent Is Erectile Dysfunction
Erectile dysfunction is a relatively frequent problem. Although this type of sexual dysfunction is more common in males over the age of 40, it can afflict men of any age. The Massachusetts Male Aging Study, the largest-ever examination of male erectile dysfunction, found that it is significantly more widespread than previously thought.
Here are some stats about ED:

Erectile dysfunction affects 52 percent of all males between the ages of 40 and 70. (classified as mild, moderate, or severe).

At least one out of every ten men is unable to obtain an erection at all (complete ED).

The majority of erectile dysfunction causes are physical in nature. These physical causes can range from cardiovascular disease to the effects of radiation therapy in the pelvic area.

There is a substantial link between age and ED, which means that age raises the occurrence of ED.

While ED affects 39% of men before the age of 40, it affects 67% of men over the age of 70.
Treatment Options for Erectile Dysfunction
Erectile dysfunction (ED) can have a significant impact on relationships, as it can lead to decreased sexual satisfaction for both partners. Fortunately, there are a number of treatment options available for those who are struggling with ED and these can come in the form of prescription drugs, devices, and surgeries. Whether it's due to a medical condition or a mental health issue, there are answers out there for you.
Drugs
In many cases, ED can be treated with oral medications that work by inhibiting the action of certain enzymes in the body. These drugs work by increasing the blood flow to the penis and resulting in better erection. Other drugs, known as PDE-5 inhibitors, work by relaxing the muscle cells in the penis, expanding the blood vessels, and allowing more blood to enter and cause an erection. Many of these prescription drugs are well-known by the public and are effective treatments for most cases.
Psychological Therapy
Therapy may be beneficial for those struggling with ED because of underlying psychological factors or relationship issues. There are several therapy options available, including cognitive behavioral therapy, which can help identify and address any emotional issues that might be contributing to ED and a lack of sexual desire, and can also provide an opportunity to discuss ED with a sexual partner.
Surgeries
In more severe cases, surgeries may be necessary to treat ED. One of the most common surgical medical treatments for improving sexual health is the insertion of a penile implant, which is a device placed inside the penis to allow for erections.
Hormonal Replacement Therapy
Did you know that men can experience something called "andropause"? It is similar to menopause in women and can occur when testosterone levels drop. Common symptoms of andropause are fatigue, poor sleep, weight gain, decreased sex drive, or difficulty getting an erection. Hormone replacement therapy may help relieve these symptoms and potentially improve libido. A blood test will be needed to determine if hormone therapy is the right solution and to monitor its effectiveness. It will also help to detect any potential side effects.
Other Options
In addition to the treatments mentioned above, there are several other options that may be beneficial for those with ED. These include lifestyle changes, such as quitting smoking and the use of recreational drugs, exercising regularly, and maintaining a healthy diet.
Suppose the cause of ED is related to a cardiovascular condition, such as high blood pressure or heart disease. In that case, treating the underlying health condition may also help to improve ED. There's also an option of a penile or vacuum pump for those with severe ED, which helps with temporary sexual function. These vacuum erection devices are safe, affordable, and can achieve natural erections when you only need an extra push.
Overall, many treatment options are available for those dealing with ED. It is important to discuss ED with a doctor to determine the best course of treatment, as each individual may respond differently to various treatments. With the right treatment, it is possible to regain sexual satisfaction and improve the health of one's relationship.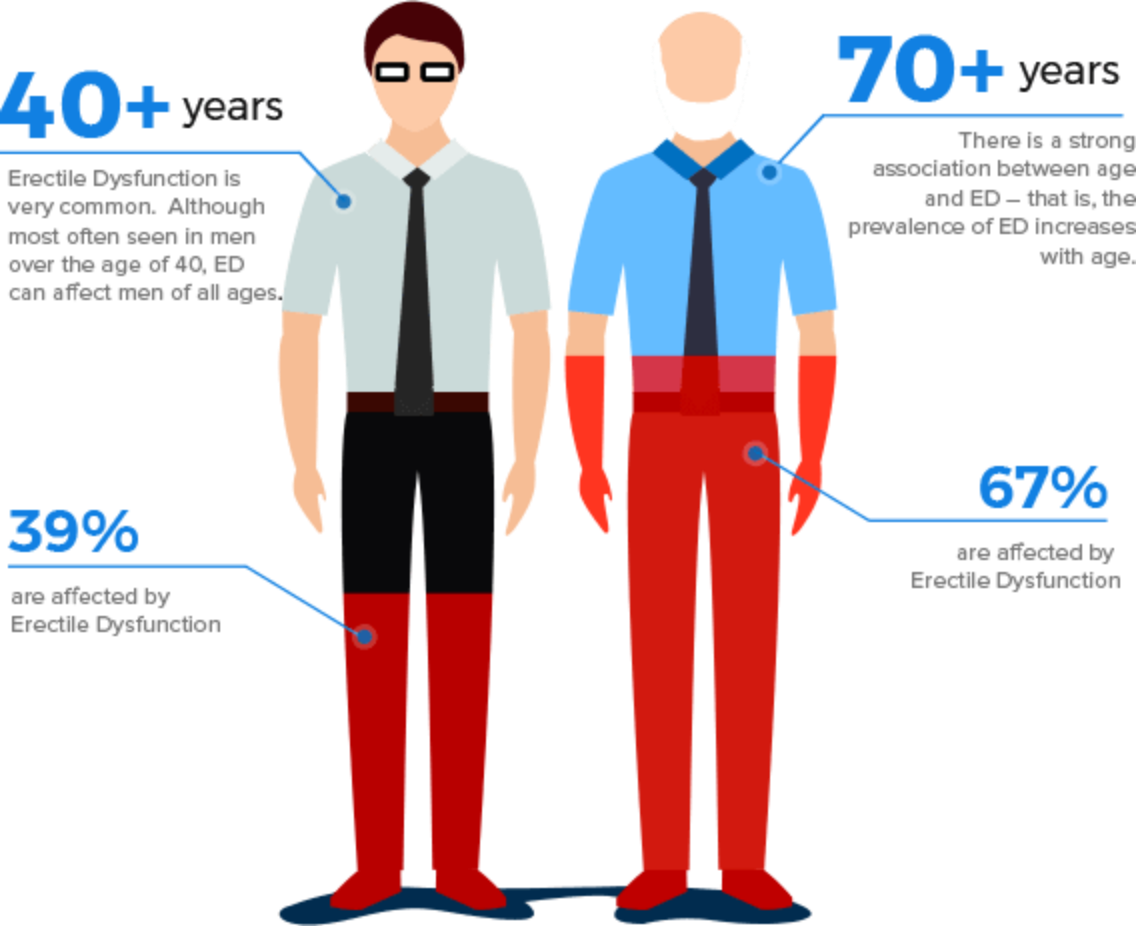 If you are looking to
improve or restore your
sexual health, talk to a
Clinic for Him physician to
see how they can help.