What Are the Symptoms of Low Testosterone?
Low testosterone can affect males of all ages, but it is more common among the elderly. Men may experience erectile dysfunction, decreased libido, and even hostility as a result of this. Testosterone is a member of the androgen hormone family, and the testicles create it in response to the stimulation from the pituitary gland—located near the base of the brain—which sends signals to a male's testicles that elicit sexual desire.
Low testosterone and sexual dysfunction are seen as obvious markers of aging by the majority of men. However, in certain situations, one can reverse ED and reduced libido linked with low testosterone. Symptoms vary depending on the source and age at which low testosterone initially shows.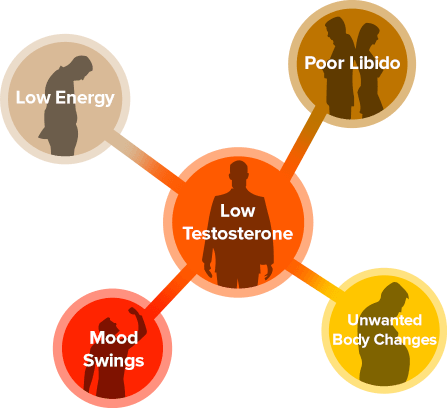 Some of the most prevalent signs and symptoms of low testosterone in males include:
If you are looking to
improve or restore your
sexual health, talk to a
Clinic for Him physician to
see how they can help.