A physical exam and a quick checkup on a man's medical history are often all that is required for a urologist to make an erectile dysfunction diagnosis and propose a treatment for the impotence of patients—mainly older men. If you have constant health problems or your doctor feels that an underlying issue is at work, you may require more testing or a meeting with a specialist.
Erectile Dysfunction (ED) is the inability to achieve or maintain an erection, and it's a very prevalent condition, affecting an estimated 50% of males between the ages of 40 and 70. ED can occur for a variety of causes, but one of the most common is blood vessel and soft tissue deterioration, often known as vascular tissues in the penis. Men must have a healthy blood flow to their penis to obtain and sustain a satisfactory erection. If the arteries in the area can't expand correctly during arousal or sexual intercourse, then the blood flow to the penis is disrupted, resulting in ED symptoms.
Generally, doctors prescribe erectile dysfunction pills to most men suffering from the condition. But in some cases where patients don't respond to the medication (due to underlying medical conditions), alternative treatment options are explored. Fortunately, concentrated and linear Shockwave Therapy can potentially restore erectile function namely the natural health of your penis' blood vessels and soft erectile tissue without the need for invasive urology medicine, restoring your sexual energy and helping you enjoy sex with your partner.
What is Erectile Dysfunction?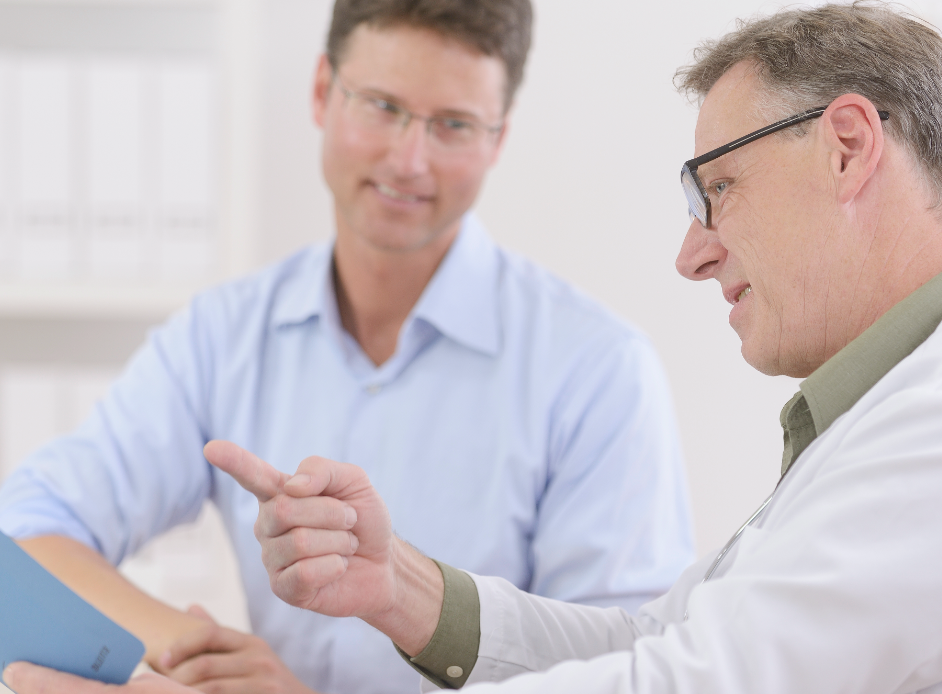 The most common problem during sex that men report to their urology doctor is erectile dysfunction, or ED, affecting up to 30 million men in the United States.
ED is characterized as the difficulty obtaining or maintaining a firm enough erection for intercourse.
Though it is not uncommon for a man to experience sexual dysfunction from time to time, true ED is not normal. A man will need immediate treatment for ED if it is progressive or occurs regularly with sex. Treatment should be either with medicine or processes such as Shockwave Therapy— to deal with symptoms of impotence.
ED can occur:
When the blood supply in the penis is restricted, or nerves are damaged—this occurs most frequently.

Because of stress or emotional reasons.

As an early warning sign of a more severe illness, such as atherosclerosis (hardening or clogged arteries), heart disease, diabetes-related condition, and high blood pressure.
Finding the causes of your ED will guide you in treating and improving your overall health. Remember that what's healthy for your heart health is usually good for your sex health. Get the needed treatment today.
Causes of Erectile Dysfunction
ED—or impotence—can be caused by either physical or mental difficulties or by both. Some well-known risk factors include:
Being over the age of 50.

Having high blood sugar levels (Diabetes).

A high blood pressure.

Having heart disease.

Having high cholesterol levels.

Tobacco use, drug use, or excessive alcohol consumption.

Being overweight.

A lack of exercise.
Even while ED is becoming more common in men as they age, it is not always the effect of aging. Some men are sexually active well into their eighties. Sexual dysfunction might be an early warning indication or symptom of a more severe health issue. Finding and treating the underlying cause of ED is a critical first step.
Erectile Dysfunction Symptoms
It is difficult to achieve or maintain a firm enough erection for intercourse when you have Erectile Dysfunction (ED)—or impotence—and symptoms can cause a man's life to deteriorate, as well as its relationships. It's essential to recognize when going to the emergency room has become routine and trouble. A primary care provider or a urologist should assist you and get the ideal treatment for you.
ED may be a prominent warning symptom of cardiovascular disease, signaling that blockages are forming in a man's vascular system, and a health checkup is urgently needed. According to research, men with ED diagnoses are at a higher risk of heart attack, stroke, or circulation disorders in their legs. ED also causes the following symptoms:
Low self-esteem

Depression

Distress for the man and his partner
If ED harms a man's well-being, sexual desire, and relationships, it should be treated at a urology clinic. Treatment seeks to improve or restore penis performance, improve circulatory health, and improve a man's quality of life.
What Is Shockwave Therapy For ED?
Shockwave Therapy is a non-invasive and non-surgical pain management and mobility enhancement procedure. Shockwave Therapy, also known as Extracorporeal Therapy or ESWT, is utilized as a treatment in podiatry, urology, sports medicine, and physiotherapy worldwide.
Shockwave therapy is a medical treatment that's been around for quite some time. It is frequently utilized as a low-intensity and non-invasive process to treat orthopedic injuries and kidney stones. Urologists have recently begun using this therapy to treat erectile dysfunction (ED)—inability to achieve or maintain an erection (impotence)—diagnosis in men or older men.
During the therapy, a small wand-like device emits targeted sound waves to stimulate penile tissue and increase blood flow, which can help hasten healing. Low-intensity shockwaves have also been proven to stimulate the growth and production of healthy stem cells that in turn activate the growth of new blood vessels and enhance health and blood flow in the penis, both of which are required for erections and sexual intercourse.
Shockwave Therapy has several important advantages:
Rapid and effective therapy.

There are few side effects.

Quick recovery.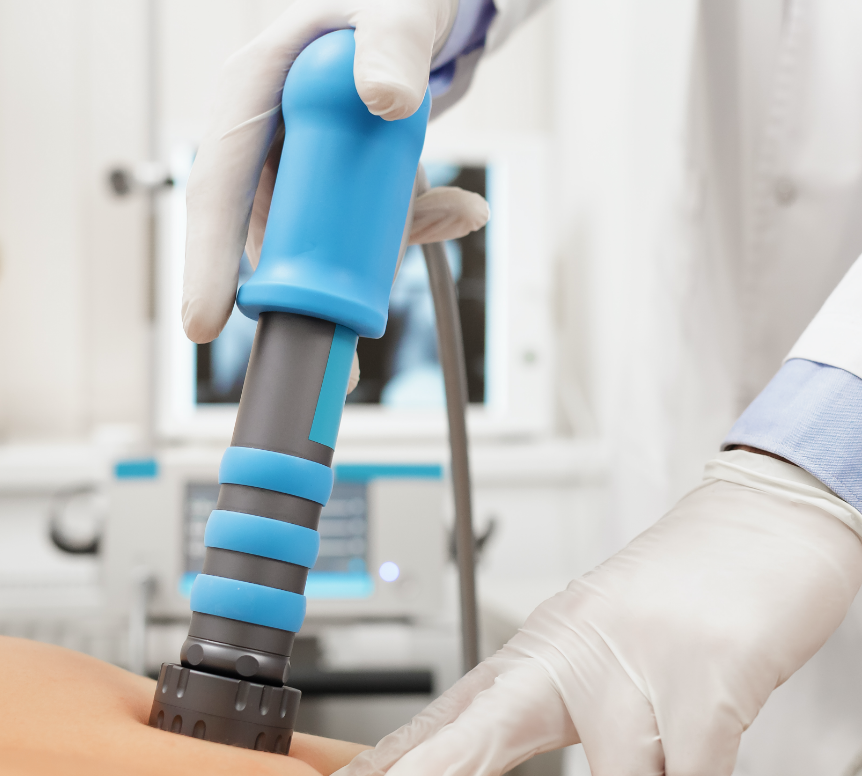 How Shockwave Therapy Works
Shockwave therapy— or Extracorporeal Therapy (ESWT)— is a safe and effective treatment recommended for anyone suffering from chronic pain or an injury—including elite athletes. ESWT is an ideal revolutionary treatment technique for plantar fasciitis, tendon issues, and a variety of musculoskeletal ailments demonstrated in clinical trials and literature reviews.
Proper medical shockwave therapy uses single pulses of energy that travel at least 1,500 meters per second, which is faster than the speed of sound. As a result, this powerful energy source can kickstart the neovascularization process, resulting in the production of new and healthy blood vessels.
During shockwave therapy for ED treatment, precise and concentrated energy is administered with low intensity to the patient's penile area with insufficient blood flow. The energy's speed allows it to pass through the outer erectile tissues without causing damage, and it may travel deep inside where blood vessels and soft tissue degradation reside. On a cellular level, this sustained and targeted exposure to high energy levels promotes the formation of new blood vessels and tissue in the affected area.
Shockwave therapy treatments in a urology clinic last 25-30 minutes and are completely painless, requiring no numbing creams or anesthetic, and it's great for men's health.
Is Shockwave Therapy for ED Effective?
Shockwave therapy is an effective and safe treatment that consists of applying linear, low-intensity shock waves to tissues near and within the penis. The goal isn't just to treat erectile dysfunction temporarily, as drugs do, but to enhance blood flow to the penis and allow spontaneous erections.
Suppose you are experiencing ED as a result of a physical problem, such as insufficient blood flow. In that case, shockwave therapy may be an effective treatment choice for you, as its results are a significant improvement for any man with vasculogenic ED.
Erectile Dysfunction Shockwave Therapy Cost
The out-of-pocket cost can vary depending on the clinic or health center, and it doesn't have to be expensive. It may seem like a big investment, but Therapy is highly recommended and effective. Before making the best decision out of all the options you've considered, your urologist will discuss the rates and alternatives with you. The number of treatments and overall price will depend on your unique case. Shockwave therapy it's an appealing kind of treatment if you have erectile dysfunction.
Difference Between Shockwave Therapy and Acoustic Wave Therapy
When it comes to the distinction between Acoustic Wave Therapy and Therapy, the answer is that they are both types of Pulse Wave Therapy—or Extracorporeal therapy. They are both good options for ED treatment. Acoustic wave therapy combats the lack of blood flow, which causes neovascularization directly inside the penis by using non-invasive, low-intensity acoustic waves to improve men's health. By removing plaque buildup, these two are a good option as therapy for ED, as they can enhance blood flow in the penile area. They can also aid in forming new blood vessels, repairing injured tissues, and reducing scar tissue. You'll find these two processes in most urology clinics, such as Clinic for Him.
What Sets Shockwave Therapy Apart From Other Treatments
Because they both produce shock waves, it's easy to identify the differences between acoustic wave therapy and shockwave therapy (ESWT), which uses radial pressure waves (rpws). Acoustic waves travel at only 10 meters per second instead of 1,500 meters per second for focused shockwaves. As a result, acoustic wave therapy falls well short of breaking the sound barrier, which is required to initiate the neovascularization process at the cellular level.
Furthermore, because acoustic waves lack high energy, they simply provide surface pressure for muscle and tissue repair, similar to a vibratory massage. That is, they never penetrate your skin's surface to reach the damaged tissue inside your penis, which causes your ED symptoms. Instead, you have redness and soreness on the skin of your penis, but your erections remain the same. This is also why these treatments frequently necessitate analgesic and anesthetic products.
True shockwave treatments are backed by extensive research and clinical findings on all underlying causes of ED.
Advantages of Shockwave Therapy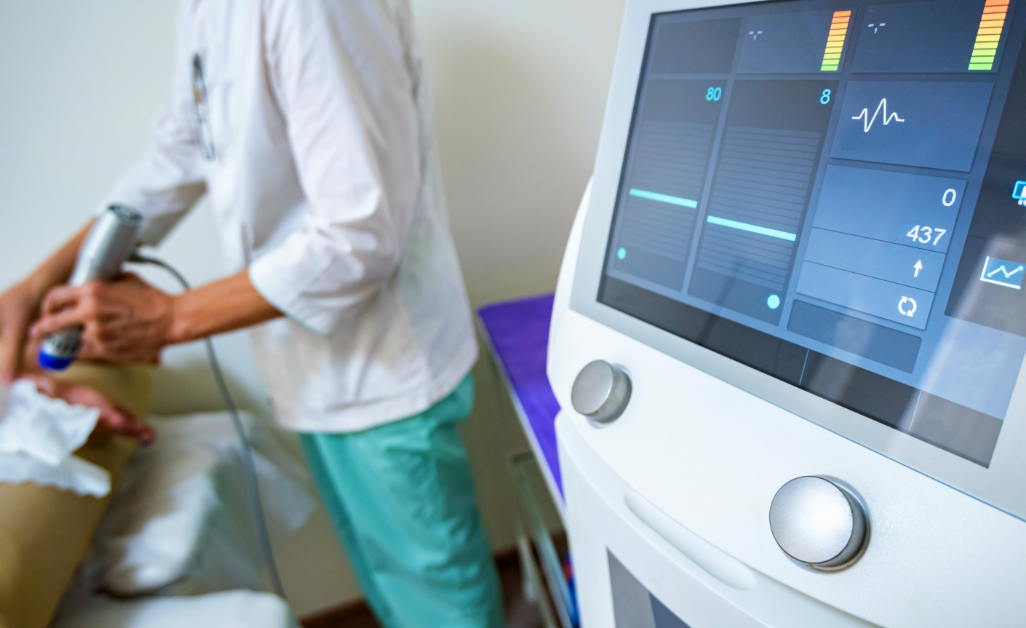 In general, a Shockwave therapy treatment requires the patient to go through the process 3 to 6 times, roughly a week apart, for successful long-term pain reduction and greater benefits in the penis blood flow. Each session can last around 20 minutes, and the majority of patients experience significant pain relief and satisfaction after the first treatment.
Shockwave therapy is a non-invasive and non-surgical process, so it has a substantially lower risk of complications. ESWT may have negative effects depending on your amount of discomfort and overall health, but only in very rare circumstances.
After the first session of the shockwave method—also called radial pressure wave or shockwave therapy—the patient feels a relief effect from discomfort and restores movement and blood supply. You will have to abstain from high-impact exercise for a maximum of 48 hours after each session so that it won't affect the effectiveness.
Your urologist will provide more specific guidance, but in general, the recovery times following shockwave treatment are significantly shorter than those following surgery, providing fast improvement results.
Disadvantages of Shockwave Therapy
Shockwave therapy, on the other hand, may have some drawbacks and problems. For example, it might only work for males with mild erectile dysfunction to moderate ED, resulting in failure for chronic ed patients.
Men who are thinking about getting shock wave therapy should be well informed about the potential benefits and hazards, which can be discomfort, bruising, and pain. Before making any decisions, it is critical to consult with a trustworthy healthcare expert about this ed treatment and minimize possible complaints and any type of negative response. Please contact or call Clinic for Him if you have any questions on side effects or would like to schedule an appointment.
Is Acoustic Wave Therapy As Effective As Shockwave Therapy?
Acoustic Waves Therapy is good and effective for guys who have a mild form of ED, so it's not as recommended for a different level of ED or more painful disorders. Studies have presented proof that shock wave treatment still supplied exceptional gains for more than 75 percent of individuals enrolled with ed underlying issues.
Advantages of Acoustic Wave Therapy
Acoustic Wave Therapy uses low-intensity waves to treat ED, particularly the symptoms rather than causes. Here are some advantages of this pulse wave therapy.
It is a safe, improved, and non-invasive treatment method with few side effects.

It is a no-pain procedure because no incisions are made.

It only takes a few days to notice the results.

When used to treat E.D, spontaneous erections might be improved.
Disadvantages of Acoustic Wave Therapy
Acoustic Wave Therapy might have a weaker effect on erectile dysfunction, depending on the severity of the case. Two main disadvantages are:
It is not a one-size-fits-all treatment.

It requires patience.
Acoustic wave therapy has a long medical history of success. However, it will not treat the underlying problem in some cases, particularly when treating erectile dysfunction and Peyronie's disease. The treatment's outcome will be determined by what is causing the disease and its severity. Aside from that, a patient may require multiple sessions to have the best results out of the acoustic wave energy device.
What Makes Shockwave Therapy The Better Choice
Shockwave Therapy treats more severe injuries with radial waves and pulse waves. It can also be used to treat plantar fasciitis, chronic tendonitis, and bursitis. An electromagnetic pulse generates the energy waves utilized in this approach. These waves have the ability to penetrate deeper into the tissues and are effective at isolating a highly particular and precise region. As opposed to Acoustic Wave Therapy, Shockwave Therapy employs a faster impulse and higher energy emission and frequency, making it a great medical benefit.
Next are the advantages of Shockwave Therapy:
More Powerful Technology
The shock wave machines and the technology used in the Shockwave Therapy procedure have a more powerful technology than other alternatives.
FDA Pre-Approval
Despite the fact that ESWT—or Shockwave Therapy— has not been proven to be 100% efficacious, it has been pre-approved by the US Food and Drug Administration (FDA).
Scientifically Proven Benefits
According to the findings of certain studies, extracorporeal shockwave therapy is an efficient modality for reducing pain intensity while increasing functionality and quality of life.