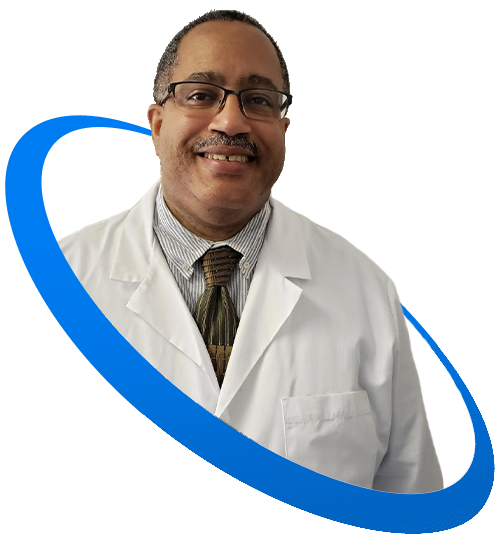 Dr. Howard Cook graduated with honors from Virginia State University where he obtained a Bachelor of Science degree in Physics, and a Masters of Science degree in Medium Energy Nuclear Physics. He later graduated from Nova Southeastern University College with a degree in Osteopathic Medicine in 1998.
His post graduate medical training includes an internship in Internal Medicine at the University of Medicine and Dentistry College of Osteopathic Medicine (Rowan University) at Kennedy Memorial Hospital. He then completed his Internal Medicine residency through Frankford Hospital's Aria Health Internal Medicine Residency Program. In addition, he also did several rotations at Hahnemann University Hospital.
Dr. Cook was awarded a full scholarship to medical school by the National Health Service Corps. As part of the program, he served as a primary care physician for an underserved community for four years. Dr. Cook has accomplished so much throughout his career including over a decade of intensive care unit work as a covering and rounding physician. He also did hospitalist work wherein he admitted and discharged patients as well as successfully responded to numerous emergency trauma situations. As an outpatient physician Dr. Cook has and continues to devote himself to providing excellent outpatient clinical care to all his patients.
Aside from being an accomplished physician, Dr. Cook is also an avid Martial artist and was on West Points karate team in 1982. He earned his black belt in World Federation Taekwondo in 1992 and later earned his brown belt in Judo in 2015 and also studies Aikido. He also competed in the Maryland Senior Olympics throwing discus and shot put where he won several medals. He is also a musician and enjoys playing the piano and several other instruments including the trombone, trumpet, and saxophone. He also enjoys photography during his spare time.